Why Handmade Leather Belts for Men are the Best
A handmade leather belt is not a luxury item. It is an investment in your wardrobe that will last for years. This article will outline some of the many benefits of owning a handmade leather belt and hopefully convince you to stop wasting money on cheap, poorly made belts from big box stores. When you're ready to get rid of your old belt, give one of our awesome full-grain leather belts and patented belt buckle designs a try.
Handmade Leather Belts for Men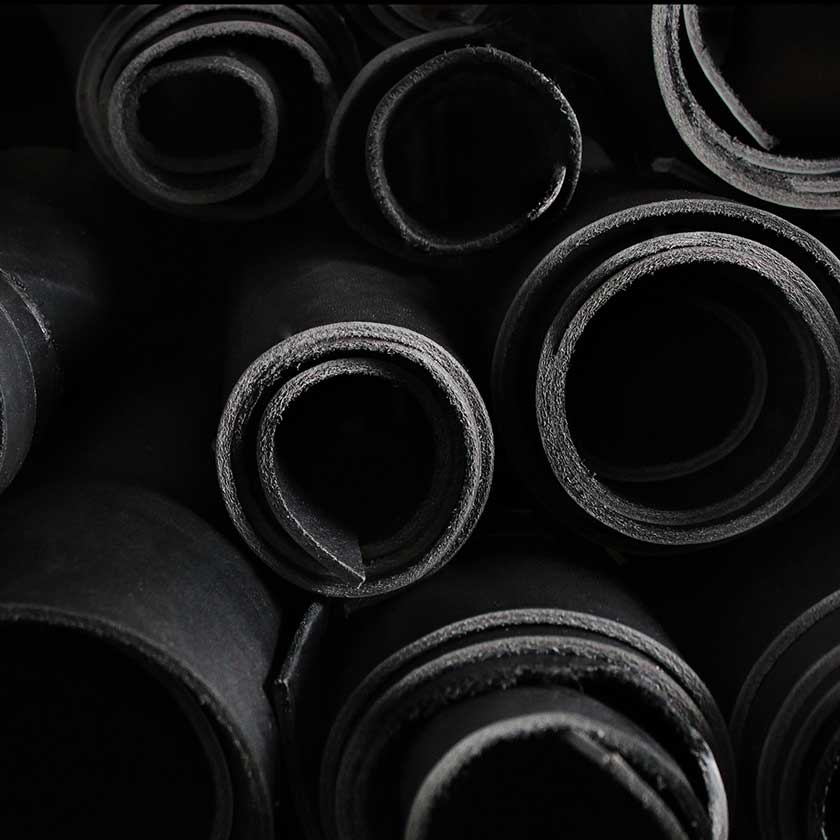 Full-grain leather makes the best belt
There is nothing quite like a handmade leather belt. Unlike mass-produced belts made from synthetic materials, handmade leather belts are built to last. The high-quality leather is soft and pliable yet durable enough to withstand years of wear. Each handmade leather belt is unique, with its own individual grain pattern and color. When you invest in a quality belt today, you can be confident that you are getting a piece that will last for many years. It's so durable and sturdy that you can even use it for gun belts!
Handmade leather belt made to fit
There's nothing worse than buying something online based on a vague sizing chart, only for it to arrive on your doorstep and not be the correct size. Most store-bought belts only come in standard sizes like small, medium, and large. There is no reason you should settle for an ill-fitting run-of-the-mill belt when you can get a custom-sized artisan belt for a similar cost.

We are happy to make any of our belts in a custom size, just send us your body measurements. We will tailor-make your belt to fit with room to spare so you can continue to use it if your waist size changes. A custom-sized belt will always be the perfect size for you without worrying about wasting time and money on returns or exchanges. Check out our guide on how to measure for a belt.
Leather belts are more eco-friendly than belts designed to break quickly
Good quality leather products will last for many years. It's the reason why leather is a traditional wedding anniversary gift and archeologists are always digging up intact leather artifacts. The less frequently you have to buy a product, the fewer raw materials you use, the less strain you put on the earth. It seems counter-intuitive for a business to encourage their customers to buy less but better, but we feel good design is worth it.

Avoid "Genuine Leather"

A typical department store belt is made with cheap plastic-y materials or low-quality leather byproducts. You can expect it to last less than two years before it begins breaking down. This looks like deforming, cracking, splitting, and tearing. The belt's failure is entirely by design. Nothing you do will ever return these inferior products to a wearable state, so you have to spend more money to buy a new belt. There are much better options available if you're after that stylish vintage belt.

This crappy department store belt started falling apart after less than a year of use. What a waste!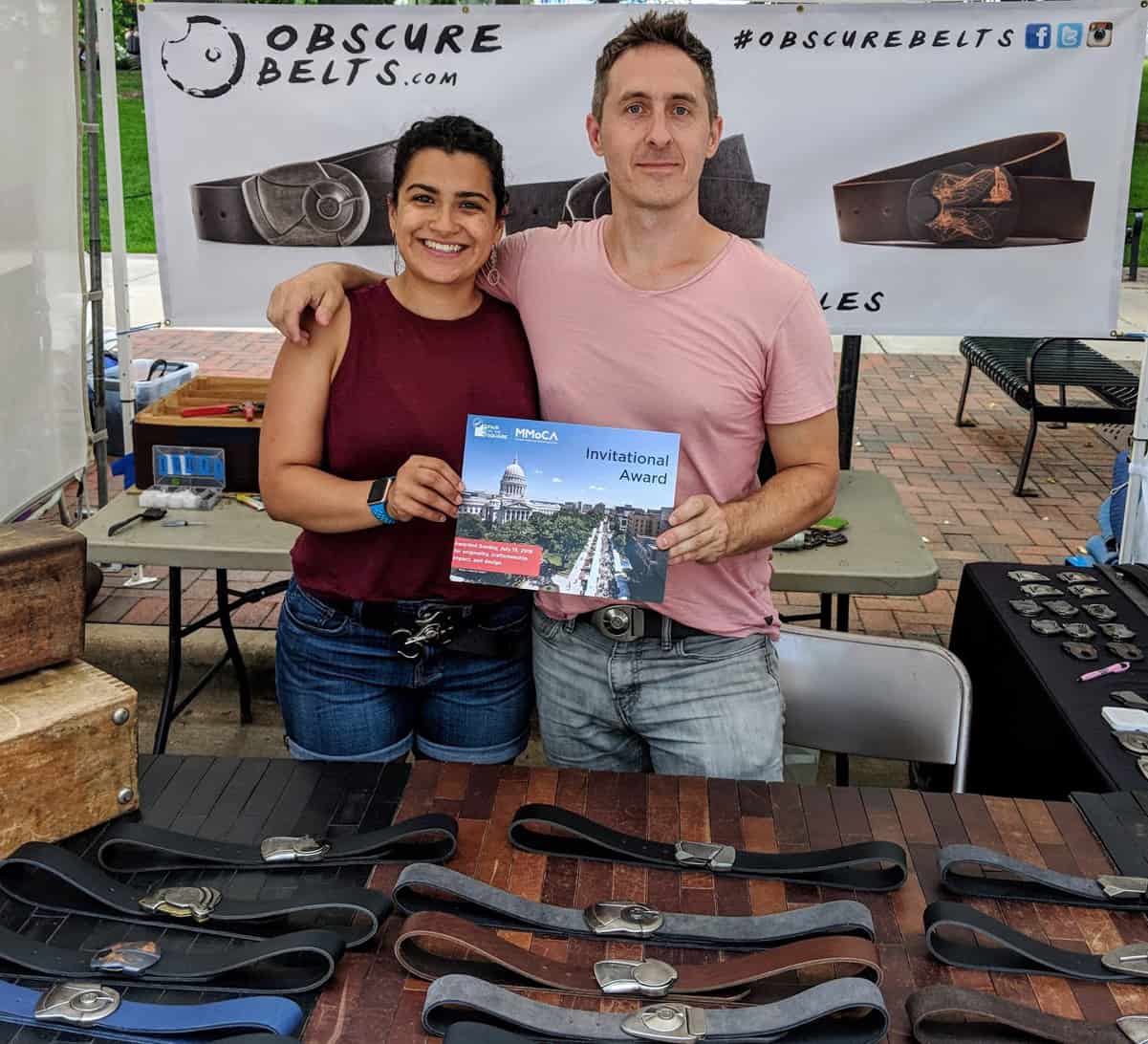 Buying local leather goods supports small businesses and craftsmen
Now more than ever, people want to buy goods made by local craftspeople. The environmental, ethical, and financial benefits of buying local are well documented. Purchasing a handcrafted belt from a local craftsperson is reinvesting your money in a community and supporting a small business.
Small businesses operate more sustainably by necessity - smaller budgets mean using materials in new, innovative ways to reduce waste. Their focus is on creating a small number of exceptional products for their customers rather than mass-producing a large number of cheaply made ones. What you buy doesn't have to travel as far to get to you, leaving a smaller carbon footprint.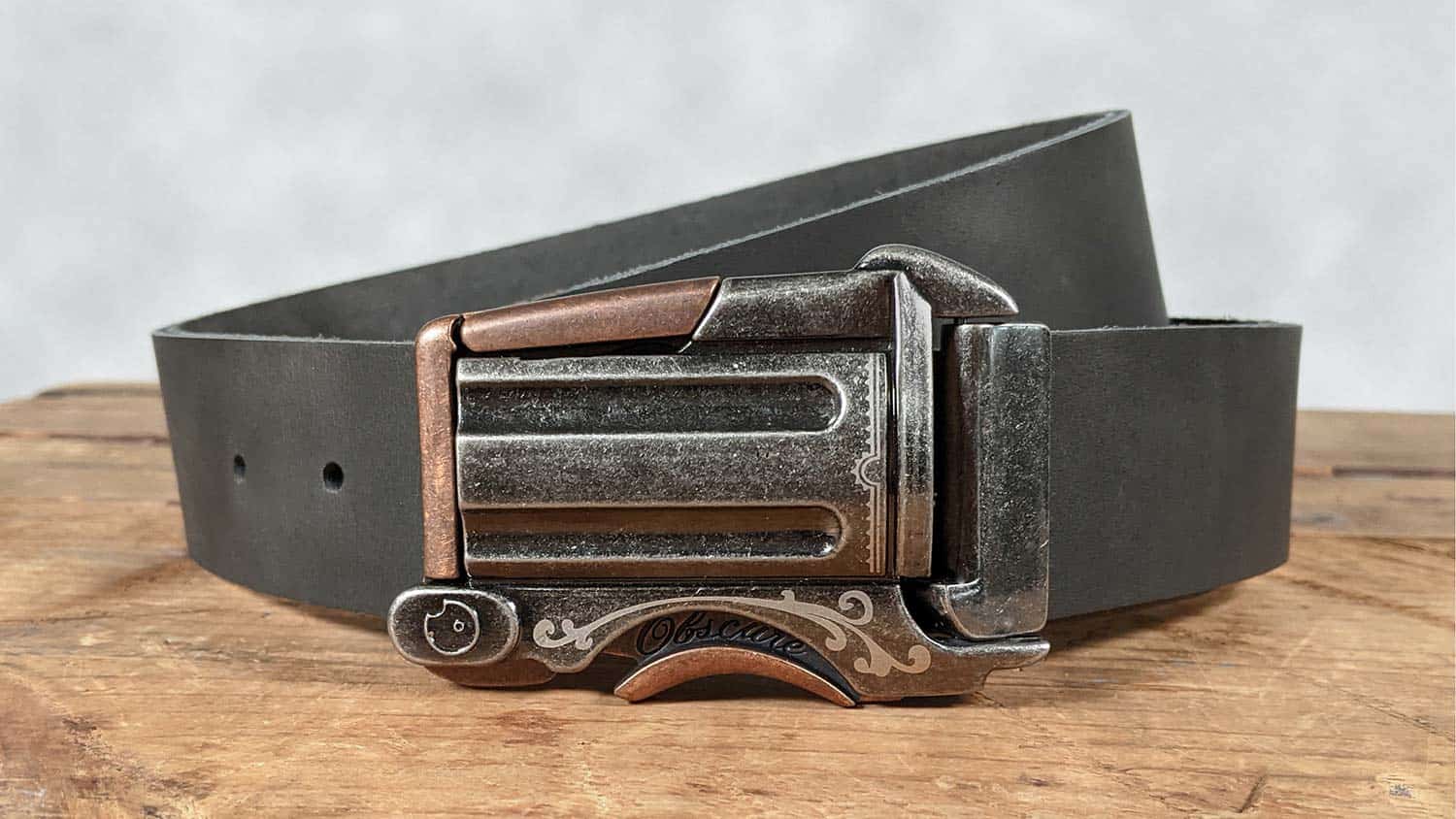 Small batch and cooler styles
Another reason to buy small: small-batch artisans can afford to be more creative with their products than big chain retailers. You're more likely to discover a one-of-a-kind statement piece or that perfect distressed leather belt when you shop from a small maker like Obscure Belts. Check out our run of limited edition belt buckles if you're searching for a special item, like our Gunslinger Outlaw gun belts.
Buy products designed to last
Our belts are made with high-quality leather that will withstand years of use without cracking or tearing. We use one solid thick piece of full-grain leather tanned by a 75-year-old specialty tannery right here in the USA. They use traditional tanning techniques to make vegetable-tanned leather that is durable yet supple enough for everyday use.
Aside from great quality materials, our revolutionary belt buckle design protects your belt from wear and tear. The stress of daily use is put on a special metal sizing screw, not the belt directly. The leather strap lays flat against your body, eliminating the creasing and wear patterns that traditional belt buckles create. A better belt buckle design means your leather will look great and last longer than other belts with minimal maintenance.
Check out our other article if you're interested in learning more about the best types of leather for belts.
Handmade leather belts are an affordable investment for your wardrobe
A quality leather belt is a long-term investment that will last a lifetime if properly cared for. The price of a handmade belt is significantly less than the cost you would pay in a department store because it's made just for you. You can be confident in the quality of the product and know that it will last much longer than anything mass-produced.
All our leather belts are handcrafted and take a couple of days to make, but they are worth the wait! The individual characteristics of each real leather belt are complemented by our one-of-a-kind belt buckles. There is no wrong way to wear our belt styles - pair them with your favorite denim jeans or dress them up for the office.
Regular price
Sale price
$105.00
Unit price
per
Regular price
Sale price
$105.00
Unit price
per
Buying handmade belts is worth it
When it comes down to the long-term benefits of buying a new leather belt, there are plenty of reasons why buying handmade belts is worth the price. Our belts will last longer than anything from a big box store because they have been made with high-quality materials and great workmanship. Plus, there really isn't anything better than knowing that what you buy has real value. If you're looking for a great gift idea or want something more personalized, head over to our shop to check out our selection of handcrafted leather belts. We have hundreds of 5-star reviews, and many customers come back for a second belt!
Men's fashion is always evolving and grey is the new black: grey leather belts are a trending alternative to brown and black ones. Their neutral tone is easy to with...

Men's fashion is always evolving and grey is the new black: grey leather belts are a trending alternative to brown and black ones. Their neutral tone is easy to with...