Custom Leather Belts are Worth It
You may believe that a custom leather belt is expensive and out of reach for most people, but this is just not true! Affordable custom belts are made to order in just the right size by artisans who produce great work. Why would you buy a boring, mass-produced belt from a department store when you can find a much better, much cooler men's belt right here?
A little bit about Obscure Belts: We started our handmade belt and buckle business in 2005. Every belt is made to order in standard and custom sizes, with many different styles of buckle and leather colors to match your taste.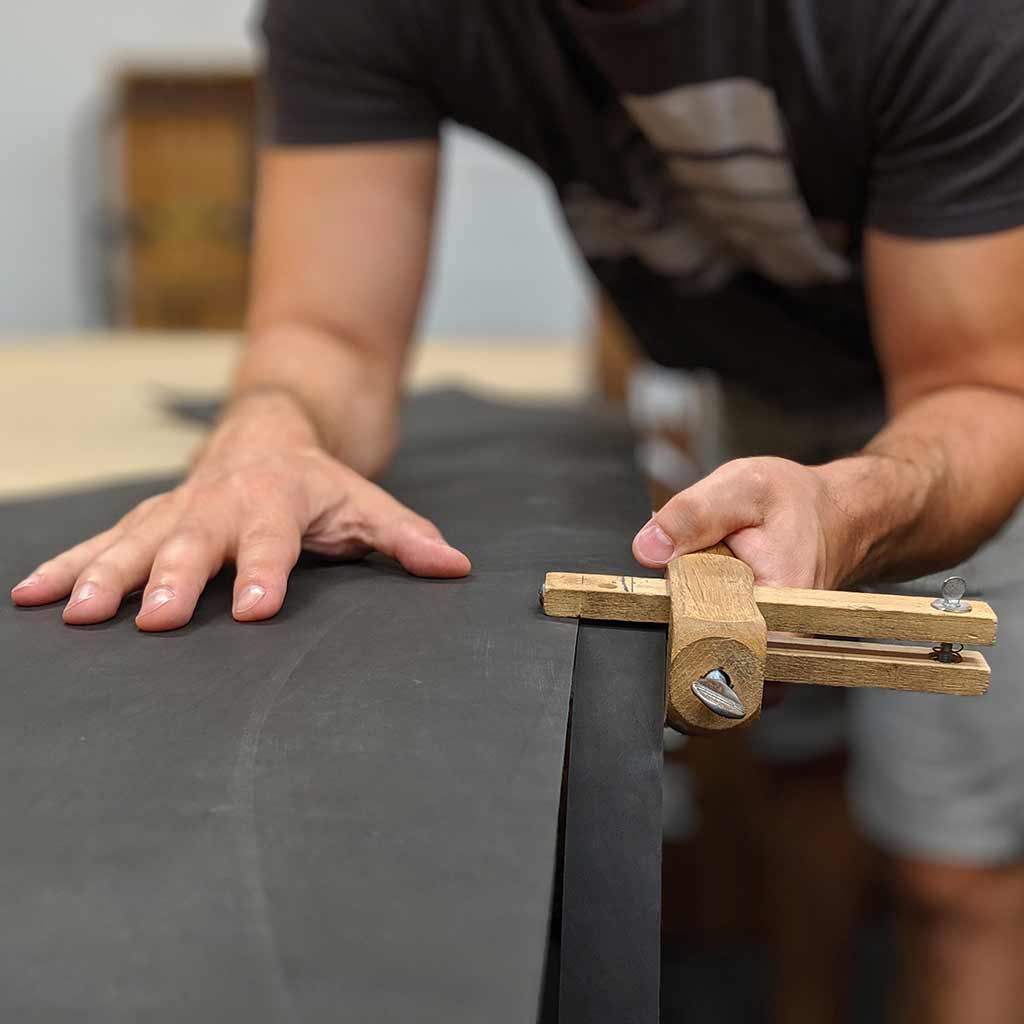 Our belts are made with the best full-grain leather
One of the main reasons custom leather belts are awesome is because they're made from better quality materials than you can find at a big retailer. We don't use off-the-shelf leather - we work directly with a specialty tannery to create the best type of leather for our signature distressed and full-grain belts. Every leather belt starts with high-quality, American vegetable-tanned leather cowhides similar to, but more supple than, harness leather or bridle leather. We cut each strap by hand and trim it to fit your exact measurements.
The best part about custom belts? You don't have to limit yourself to one style or color - pick a belt that speaks to your personality! We make belts in three standard colors (black, brown, distressed grey) and limited edition slate grey.
Unique belt buckle designs
No belt is complete without a cool belt buckle, and you won't be able to find anything neater than the ones we make. Our patented belt buckles work in a totally different way than anything else on the market. There are basically two parts working together - the buckle you can see and click to open, and the sizing screw underneath that attaches to the strap. Together, this unique system keeps the stress of daily wear off your leather so it looks great even after years of use. Bonus: no more sloppy, floppy belt straps! Plus, your belt buckle looks so much cooler than anyone else's.

We designed several belt buckles to match your favorite outfit. Styles range from the Micron, a modern-looking 1-¼ inch wide brown work belt, to the Fractal, an industrial-style buckle design that is the perfect final touch to a cyberpunk outfit. If you're after a vintage-looking belt to wear with jeans, any of our unique buckles can be paired with our distressed grey leather.
Regular price
Sale price
$105.00
Unit price
per
Regular price
Sale price
$105.00
Unit price
per
How much does a handmade leather belt cost?

Leather belts are an affordable investment in your wardrobe. You can expect to pay somewhere in the range of $75-$150 for a well-designed product. Look at it this way - the price of buying one good quality handmade belt today is significantly less than paying for many cheap mass-produced belts that constantly break over the years. Buy it once, buy it for life!

We keep our pricing simple - standard and custom belt sizes are the same price. Black, brown, and distressed grey belts are $105, and limited edition styles retail for $115-125.

Custom leather belts last longer

Most traditional belts fail after a few months of use because they are meant to. It's called planned obsolescence, a terrible yet common practice in the fashion industry. The belt below is a standard reversible belt that you can find at any big box store. It started to break down and look horrible after less than a year of wear. Don't waste your money on products designed to fall apart when you can easily afford a much higher quality item.

Obscure's belts are different because they're designed to hold up over time and even look better as they develop a patina. It seems counterintuitive for a company to make something that will last years, if not decades, but we think it is a good design practice.

If properly cared for, you can expect one of our belts to last a very long time and may even be something you hand down to one of your kids! But don't just take our word for it. Our fans have great things to say about us - check out one of our rave customer reviews.
Ordering a custom leather belt is easy!
It's easy to order a leather belt online, no need to visit a store for a fitting or wait for ages until your new belt arrives. We have simple step-by-step instructions on measuring yourself for a belt so you can place your order right on our website. We'll make a special length belt to match your size measurements and you fit at the center hole of your belt. We always add a few extra belt holes for adjustment if your waist changes. And just like our standard sizes, we ship custom leather belts in your correct size, within three days of your purchase.
We make all of our casual belts in 1-½ inch width and our dress belts in 1-¼ inch width. We can typically make up to a size 48 belt. For longer sizes or questions on leather belt sizing, please get in touch with customer service through our contact us page before placing your order.
Men's fashion is always evolving and grey is the new black: grey leather belts are a trending alternative to brown and black ones. Their neutral tone is easy to with...

Men's fashion is always evolving and grey is the new black: grey leather belts are a trending alternative to brown and black ones. Their neutral tone is easy to with...